A lot of research and testing went into finding the linked items displayed in this article. They are meant to be used as a guide. We suggest shopping around and see if you can find something cheaper/better of the same specifications. If you find something better please let us know in the comment section!
Whether you're new to the world of hobby FDM printing, need to prototype designs, or looking for the next machine for your print farm, the question remains the same: "Which 3D printer should I buy?" To figure this out we always ask: "What is your budget? What are your goals?" After multiple purchases and builds, we at HomeGrown 3D found one of the best low priced FDM printers with a small build size that you can purchase: The Kingroon KP3S.
The Printer Overall
Kingroon's KP3S 3D printer is a great stand-alone hobby level FDM Chinese 3d printer. It features a Direct Drive set up with a well-chosen Titan Extruder, v5 Hotend, and Linear Rails. At approximately $160 USD, 180x180x180 build size dimensions, the KP3S is a small and dependable workhorse for prototyping, printfarming, or hobby 3D printing.
The Titan extruder and rail system set it apart from its competition in its price and size. It is worth noting that you never see linear rails on any other cheap printers like this! Its price makes it very affordable to upgrade further to specific needs.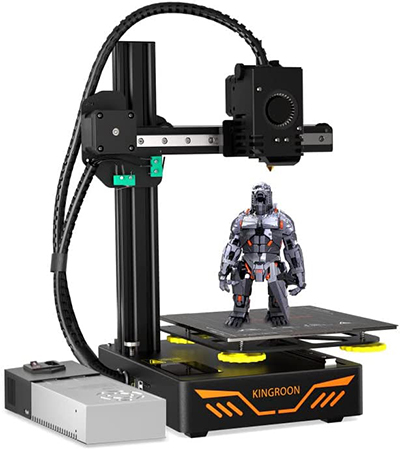 We believe the Kingroon KP3S printer is a great choice for advanced users and beginners alike, so long as you are OK with the small build size, and prepared to tolerate the Kingroon company. While the Creality Ender 3 printer may be the most popular printer on the market and has way more community support and customization options, the KP3S rivals it and is in our opinion, a much better option than the Ender 2, and comes in at about half price of a Prusa Mini.
You won't see advanced users opting for Creality Ender 2's, Ender 3's, nor Prusa Minis as often as you will see them rock the KP3S! The Kingroon KP3S is a great printer to have in your arsenal. The Kingroon KP3S printer has also earned a reputation as the choice for budget minded print farmers. It caught the attention of Nero 3D who also likes the printer, but had a bit of different things to say about it in this review.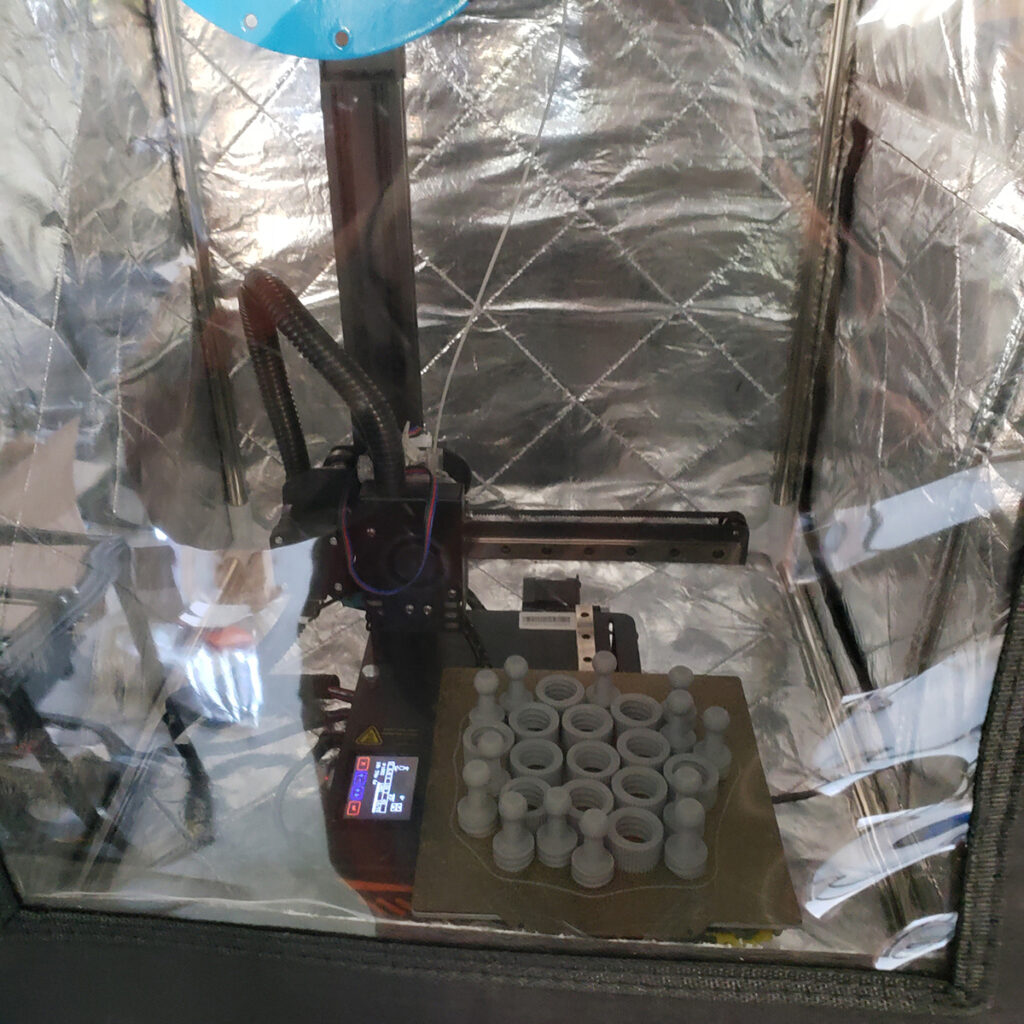 Setup
Assembling the printer is surprisingly easy. It can be assembled in about 15 minutes or less.
Accessing the board is a little cumbersome because there are a lot of screws to unscrew, but those screws add rigidity to the base. We suggest looking the board over before turning it on to make sure everything looks good.
The touch screen barely worked for us but that may have been due to callused fingers. We had to find TH3D's firmware to get it to work. PID tunes never really seemed to work well with TH3D for whatever reason and instead of trying to compile our own Marlin firmware we switched to Klipper and no longer use the screen. Kingroon's guide on setting up Klipper is fairly helpful but can be tricky depending on which chip your board comes with.
Hotend
The hotend appears to be a V5 hotend. It has PTFE lining so you should not print over 220C with it. The way it locks the ptfe lining in makes it very unlikely it will become unseated from the nozzle which would cause a clog and leak. V5 hotends are hard to find parts for, but the KP3S is almost set up for a drop-in V6 replacement so long as you print a longer printed fan duct. We also have fan ducts for sale on our printfarm website HG3D.org, printed in heat resistant Polylite PC.
Firmware
We switched our KP3S to Klipper firmware and love it!
Our review here is lacking because our touch screen was not recognizing callused fingers and the only easy solution we could find was to switch to TH3D firmware. At the time we were determined to use the touch screen, and so TH3D's firmware mostly worked well but for whatever reason glitched when we tried to save PID tunes to Eprom. Instead of investigating this problem or compiling our own Marlin we just switched to Klipper firmware.
We have yet to determine this but using Pronterface or Octoprint and ignoring the screen and then the firmware is probably great. This all makes it a bit of a potential hurdle for a new user. You also need to match your Klipper firmware to the version of chip on your machine, and all the different chips that Kingroon used during the chip shortage doesn't help and their how- to-guides are incomplete for several of the types of chips.
Extruder
The extruder is a titan extruder. It features a gear on one side and an adjustable tension bearing. The tensioner works great. The extruder also has a nice plastic insert that snugs up very nicely against the gear and bearing, making for easy and carefree TPU printing. We eventually broke the arm on my titan extruder to find out that is a common problem with the design. The extruder still worked after breaking it, but at that point we opted for replacing it with a BMG extruder.
Motion System
The motion system is great. Its setup is mindless. Between the x/y rails and the wheels and eccentric nut for the z axis feels like best of both worlds. The linear rails make set up a breeze and make it easy to learn how to push your printing speeds. The z axis wheels and eccentric nut makes sure you take out any slack from the weight of the x axis on a single z extrusion. This is also why we do not care for the KP3S Pro version, where they overhauled the motion system in ways that are expensive and not to our preference.
Power Supply
The power supply works, but the fan ours came with was very loud and noisy. The power supply is big and not attached to the printer, which is both an advantage and disadvantage. If you enclose the printer, the power supply is already detached for placing outside the enclosure, but it also makes the printer more cumbersome and take up more space.
Upon closer inspection, we are not very happy with how the power supply was wired. It appears Kingroon did not use any sort of crimps and just stuck raw and tinned wire into the terminal clamps. This could be done a lot safer for preventing fire risk and maintaining long term function.
The Board and Screen
The robin nano is a decent and neat board. Even neater when you get one with a real STM32f103 chip. Unfortunately with the chip shortage kingroon has swapped out the chips in the boards quite a bit. We would defer to Nero 3D's review on this board. As said before in both the setup and firmware sections of this review, we did not have much success with the touch screen due to callused fingers.
The Frame and Construction
It features sheet metal folded in nice and intelligent ways, some welds, and 2040 extrusion for the z axis. It all seems well thought out. We really like it as it is stock. It is also easy to upgrade the height to 220mm or so using Ender 3 extrusion and z rods. Nero3d wasn't the biggest fan of y axis and the welds that mount it. There is also this full modification set, the SnakeOilXY-3S, that reworks all of it. Is it just snake oil? We are not sure. It looks really cool though.
The Company
Let's get hairy and dramatic. Speaking from a western perspective, the manufacturing and retail capabilities of China have grown immensely in recent years. There are many operations in China that are now very competent and offer very high quality services and manufacturing. Not all of the companies coming out of China, however, are up to this standard. In hobby level FDM 3D printing, the market is run by Chinese companies that are generally on the lower end of the spectrum. The 3D printing market norm for low priced Chinese 3D printers, is for the company to offer a fake warranty and then accuse and confuse the customer if they try to ask for any sort of warranty repair or customer service, and to generally pawn them off on community lead user groups on Facebook and Reddit. We have seen this across many brands. The company Kingroon, that produces the KP3S, has managed to lower this bar even further.
Kingroon appears unorganized on many fronts. They did get their act together enough to produce and stock KP3s printers across the world, but be warned, issues with the company do trickle into the printer. The variety of different mainboard chips for their Robin Nano style boards can make updating firmware a bit of a pain. Kingroon tries to help with this and they put out helpful guides for installing firmware and ABL sensors on the KP3S. This effort falls short at times as they do not update the guides to match their variations of their product. We think this is an understandable struggle and are empathetic.
Now our main issue with Kingroon is their behavior towards their customers and how they degrade the quality of their user/owner groups. Kingroon spams promotional offers on messaging channels on Ali Express normally reserved for customer service. Worse yet, they spam their own facebook groups in ways that degrade the owners groups community's ability to support each other. They have made it a corrosive experience to be a part of and participate in their groups. If we were to compile a complete list of screenshots of angry, frustrated, and annoyed customers in their facebook groups, it would be endless.
We only suggest purchasing KP3S 3d printers on Amazon because of Amazon's return policy. Do not buy from Kingroon directly unless you are ok with possibly donating your money to them and not receiving a product. Be cautious utilizing them on Ali Express as well. It seems especially foolish to expect anything from their customer support.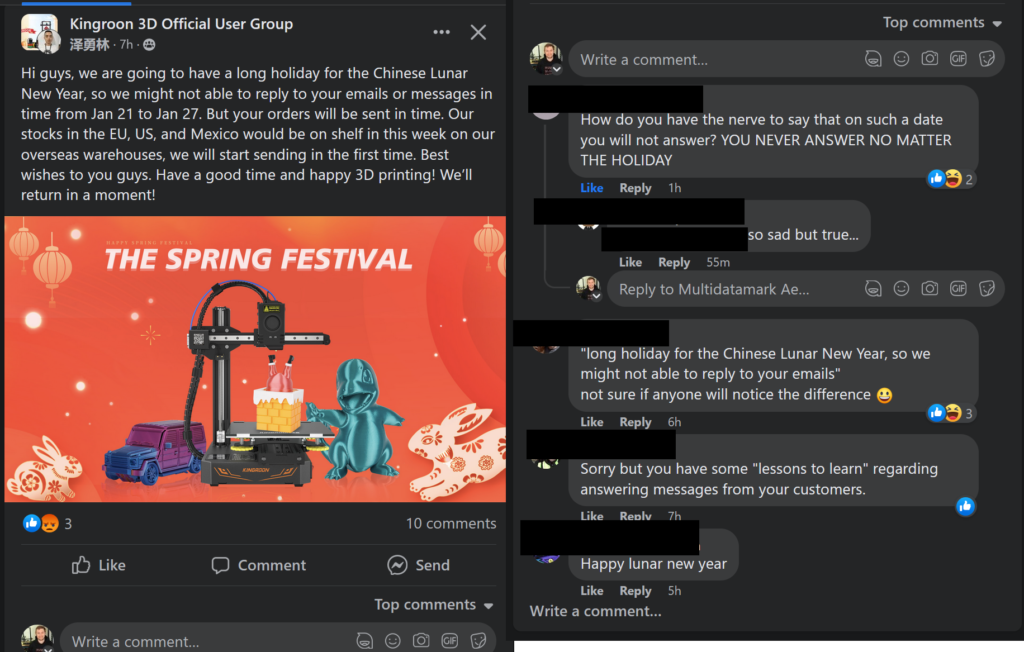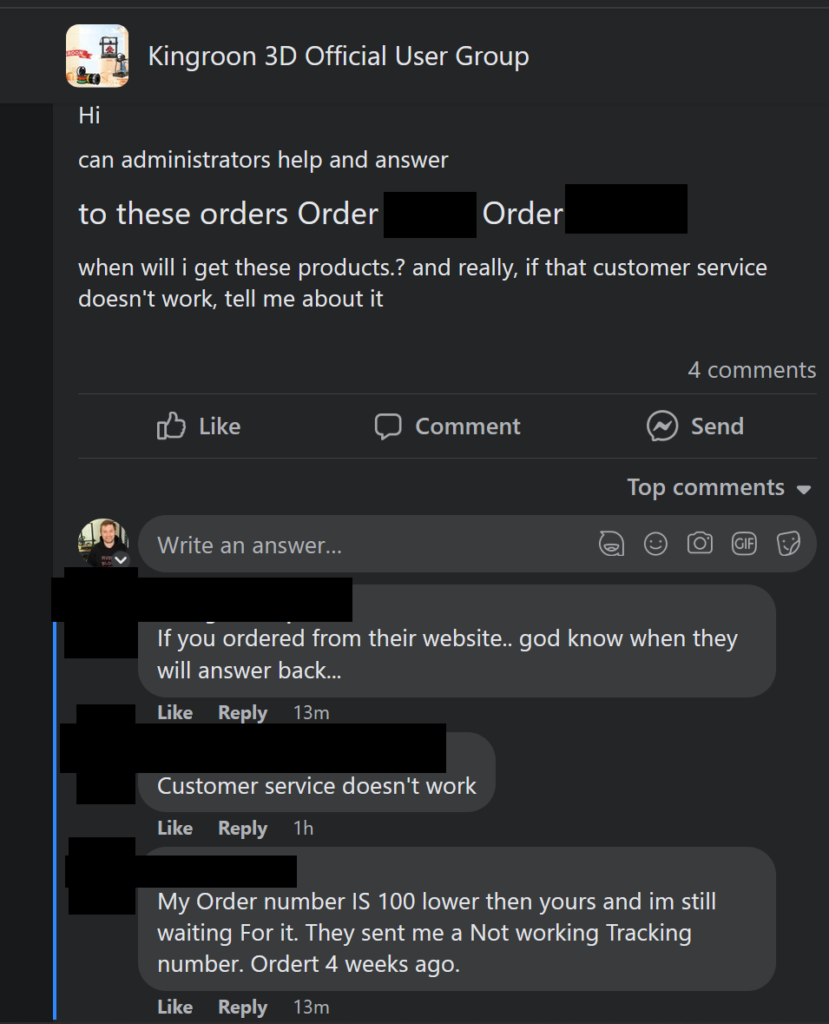 Here Kingroon is in their own Facebook group offering free filament for amazon reviews. This is a common tactic, but an unfortunate one for a manufacturer of a successful 3d printer. At time of writing this, they have been posting asking for reviewers every single day in their groups.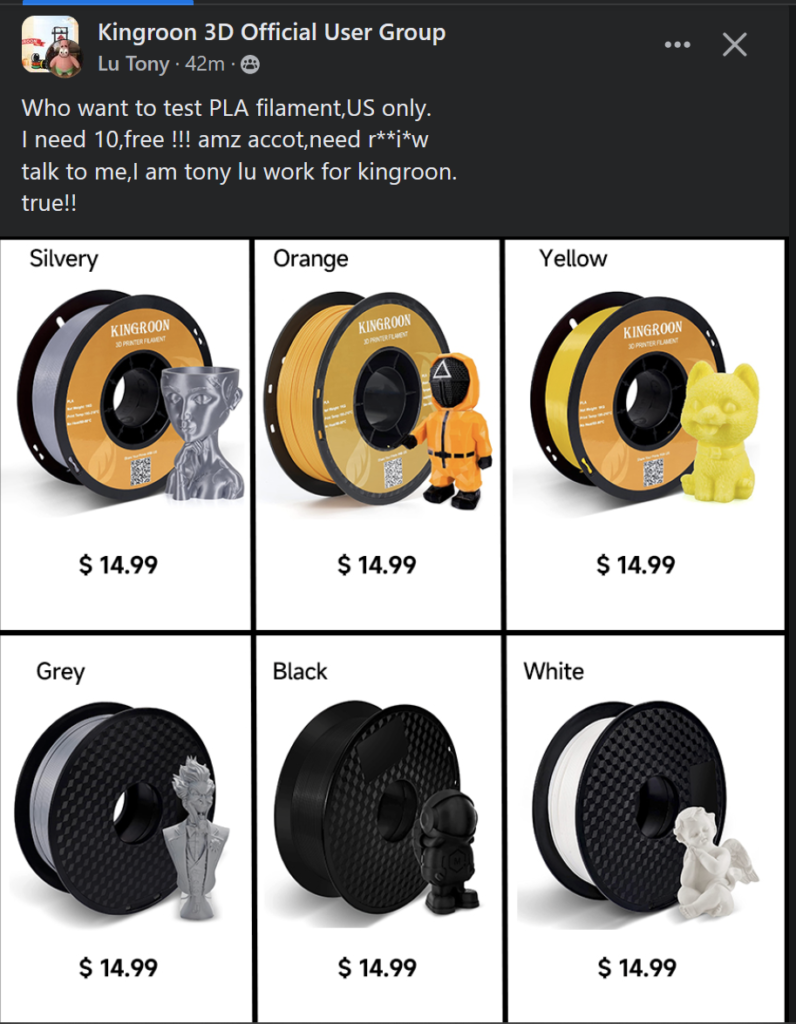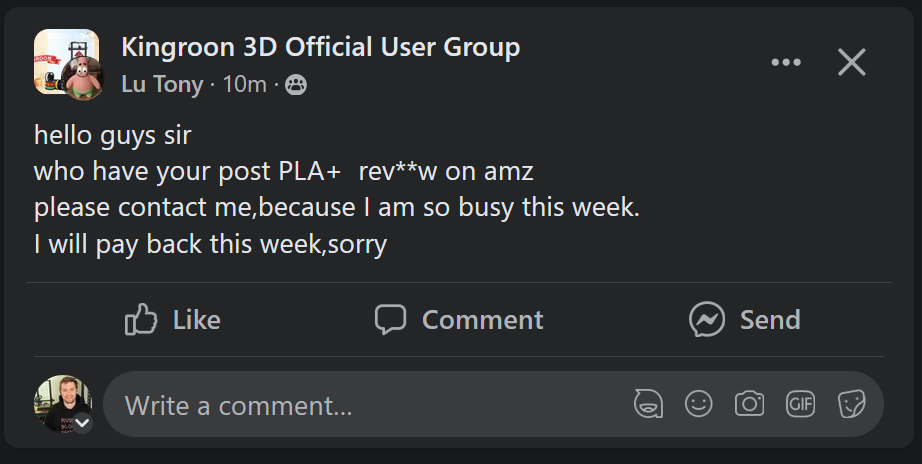 Don't let the company ruin it for you. The printer is still really nice. The standard KP3S with titan extruder is great, but it is advised to avoid everything else from them, and to understand what you are getting into with customer support (or lack thereof). We also suggest that you avoid other products that Kingroon releases. In our opinion, they are only really worth the money with the KP3S.

Upgrades and Modifications
There are many upgrade paths you can take for the KP3S printer depending on your needs and budget. We have noticed a lot of community support around the Orbiter Extruder and we like what they are doing over at Orbiter and think that is a great improvement over the Stock Titan extruder. Along with V6 hotends, we are also quite fond of the DragonFly BMO from Phaetus, which shares most of the same dimensions as the V6. Mentioned earlier, there is this SnakeOilXY-3S that is an intense and complete rework of the KP3S.
Really though there are many options out there as community support for this printer continues to grow.
Remix of LMakers Toolhead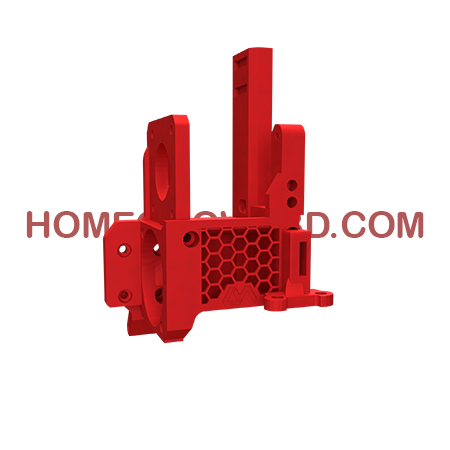 We recently designed and with this review are releasing a rework of LMakers BMG V6 Toolhead design. Our version makes it more durable and uses heat set inserts instead of threading into plastic.
Get the Remixed LMaker Tool-Head STL Files!
Our KP3S Setup
Below are modifications currently installed on our KP3S printer. We have attached links where possible. Please post your own recommendations for upgrades in the comment section!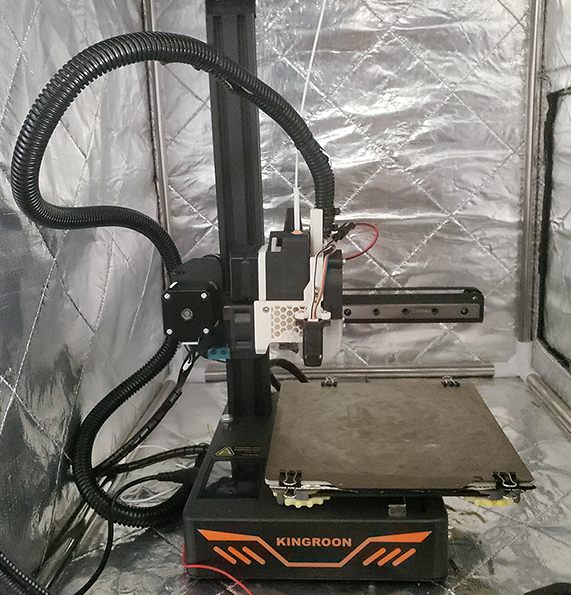 250mm 2040 extrusion and Z Rod to increase Z height. These were spare parts salvaged from an Ender 3.
Silicone Wiring 24 gauge for most the standard wires, and 20 gauge for the heater wires. WARNING be sure to use properly rated wire for intended use. We suggest using the Voron build guides as a resource for wires.
½ Inch Split Loom and Zip Ties
JST connectors for easier changing toolhead parts
Ferrules on wires for better connection to the board
The bed leveling wheel locks by Monsieurglad that started it all for us! We printed them in Nylon 6 with Glass Fibers from Polymaker.
Insulated build plate (this is really thick insulation that we cut to size. It doesn't leave much room for the wheel locks to function but that actually makes them work better in our experience.)
Spring Steel PEI build plate The magnet included with this is weak and we suggest tracking down a stronger magnet for high temp printing. We just use binder/paper clips to hold it on when printing at high temp.
V6 all metal hotend with bimetal heartbreak, copper heat block, super hardened steel nozzle. We are testing our house brand and plan to offer these parts for sale in the near future at HG3D.ORG
Raspberry Pi Zero 2 W. A Raspberry Pi or Inovata Quadra (etc.) enables wifi access and is also needed to run Klipper firmware.
Nevermore Micro V5 Duo carbon air filter. It works for now for printing nasty materials, but we find ourselves desiring something with more air flow.
Pros, Cons, & Competitors
Up Sides
Print TPU with ease right out of the box
Endstops seem neat
Titan extruder with nice internal piece for TPU printing
Rails make it mindless and fast
Cheap
Small
Straight forward and simple
Assembly is easy
Down Sides
Power supply
Fans and cooling
PTFE lined hotend
Hard to find v5 hotends or v5 parts
Wire management could be a little bit better
Random Chips in board
Sloppy Power Supply setup
The company Kingroon has no customer service and spams their user groups relentlessly
Competitors
If we missed any upsides, downsides, or competitive printers of the same class as the KP3S, please post them in the comment section!
Conclusion
The Kingroon KP3S is a well put together, extremely affordable, small workhorse of a 3D printer. Our KP3S was a staple while redesigning our print farm around our TAC-01 R&D. The KP3S is also the main printer we relied on while building our first three TAC-01's. We plan to eventually replace our KP3S with something of our own design, but it is a tough 3D printer to beat.
We love upgrading the KP3S, but also enjoyed using it for a year out of the box with no modifications, printing TPU and Silk PLA. The main downside to the printer is the company Kingroon's behavior and attitude towards their customers. They have somehow managed to lower an already very low bar on the standards for dealing with cheap 3D printer companies. With all that in mind we highly recommend the Kingroon KP3S to anyone looking for a 3D printer and that finds the KP3S meets their needs.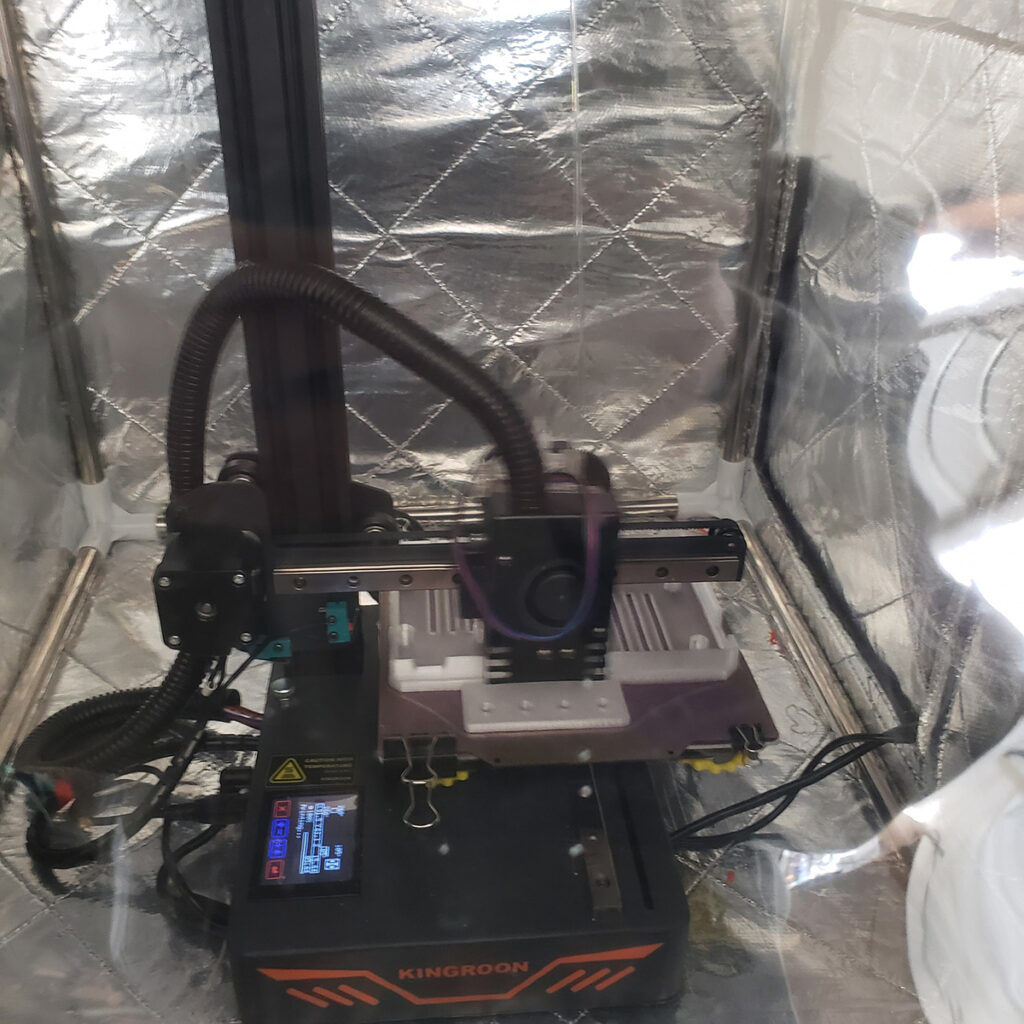 Support HomeGrown 3D
Our mission is to create a self-sustaining resource for our open source 3D print designs, sharing information, honest reviews, and building community. Support HomeGrown 3D with a donation of as little as a $1, and consider signing up for our Patreon with a regular amount each month. HomeGrown 3D is a small operation, and every contribution, however big or small, makes this possible.
Thank you!

Paypal Donate

Patreon